Zambia : Zambia records an influx of tourists at different sites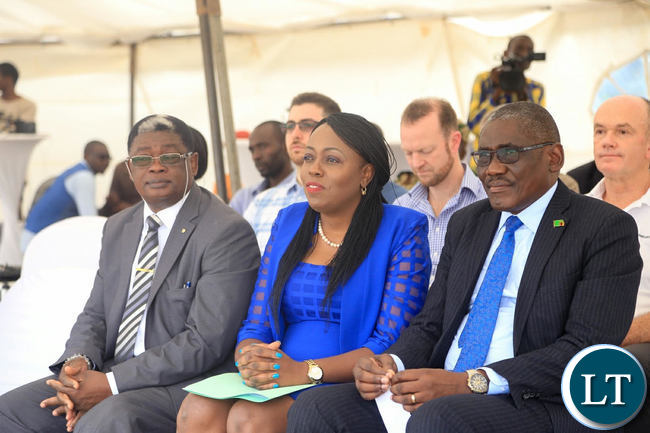 Permanent Secretary Rev. Howard Sikwela, WWF Zambia Country Director Nachilala Nkombo and Minister of Tourism and Arts Charles Banda during the launch of the drones project.
Ministry of Tourism and Arts Permanent Secretary Howard Sikwela has revealed an increase in the number of tourists in the country for both the local and foreign tourists.
Mr. Sikwela said a total number of 519,817 tourists have been recorded to have visited various tourist destinations in the country from January to June 2018 as compared to 511,822 recorded in 2017 in the same period.
Speaking in an interview with ZANIS in Lusaka yesterday, the Permanent Secretary stated that the tourists visited various tourist sites such as the National Parks and national heritage sites.
He explained that under the National Parks visited include South Luangwa, lower Zambezi, Mosi o tunya National Park, Lusaka National Park and the Kafue National Park while, the heritage sites include the Victoria Falls.
Mr. Sikwela further disclosed that a total number of 36,865 foreign and locals visited the various National Parks across the country as compared to 37,711 which represents a drop.
He noted that his ministry has continued to market and promote the country's products and services to attract more tourists in the country by the use of the media and working closely with the Zambia Tourism Agency for the tourist destinations.
Mr. Sikwela has since urged the local people to take advantage of the various tourist destinations in the country.
He stated that his ministry has put in place different measures to ensure that it is affordable for the locals to visit the different places.
'It is unfortunate that the local people believe that it is costly for them to visit the various heritage sites and National parks because the charges for the services are lower for them as compared to the foreigners at all tourist destinations," he said.
Mr. Sikwela said different packages have been put in place such as entry fees which are lower for the locals as compared to the foreigners.
He added that for this reason, the Victoria Falls recorded an increase of domestic visitors in 2017 at 61,268 compared to foreign tourists at 15,332 in the same year.
Mr. Sikwela disclosed that a total number of 64,811 domestic tourists have visited the Victoria Falls from January to June 2018 as compared to 23,463 for International tourists.
He said the industry can only contribute effectively to the growth of the national economy if the local people begin appreciating the tourism industry.
Loading...
Read More